FAQs
1: What is your MOQ?
We want all of our customers to check our quality first, so we do not have MOQ even we are wholesalers. Any piece is OK.
2: Do you offer drop shipping?
Yes, we can do drop shipping for you directly.
You can re-sell all of my products in your country, and we can do drop shipping for you. We promise we won't leave any information of us on the parcel.
3: What is your delivery time?
After your payment, we usually need 2-3days to prepare the items. After we ship out the items, the time depends on the transportation and your custom checking.
| | | | | | |
| --- | --- | --- | --- | --- | --- |
| EMS | DHL | HongKong Post | China Post | ARAMEX | EUB-packet |
| 7-12(days) | 5-7(days) | 13-18(days) | 15-25(days) | 5-7(days) | 5-7(days) |
4: Do we need to pay the Custom fee?
To be honest, it is a thing of luck. First, we always try our best to help customers to avoid the custom problem, while it varies among countries. In case your local customs charge tax from you, please contact with us at the first time. We'll give you some effective suggestion to help you avoid the tax or pay less tax according to our rich experience.
However, we would not pay the tax for you. Generally speaking, the chance of being taxed is 0.1%.
5: Are your items originals? What is the difference between high quality and normal one?
Honestly speaking, all of our products are replicas. We offer different levels of quality for your choice.
For example: handbags, belts, shoes:
1:1 quality: same as the original leather, with excellent workmanship, we can even offer original gift packing including Gift Paper Bag, Gift Box, Dust Bag, Invoice, Receipt, Certificate Card, Silk Flower.
High Quality: made with real leather, for example, sheepskin, cow leather, pigskin, very close to the originals
Normal Quality: made with very high class PU(manmade leather). Looks the same as the originals from the appearance
6: How can I choose the right size?
Some customers may find the goods you receive are not in suitable sizes. Such cases are mostly among clothes. We highly recommend you to advise your height/ chest/ waist/ weight to the sales if you are not sure on the size. Our sales may give you right suggestion.
7: After checking out, the cart is empty. Do we make the order successfully?
Yes, the shopping cart will be empty after you checking out. The order is successfully made. Both of us will get an email of order confirmation. 8: About the payment method
We offer Credit Card / Western Union / Money Gram / Bank Transfer. We have special discount for payment of Western Union / Money Gram / Bank Transfer
9: How long will the tracking information be online?
After the parcel is shipped out, for EMS it usually takes 2-3 days to upload the information online
For DHL, we'll send you the exchange tracking NO. when package arrive Hongkong. Then you can track it online.
EMS: http://www.ems.com.cn/english.html
DHL: http://www.dhl.com.hk/en.html
ARAMEX: http://www.aramex.com
E-packet: http://www.ems.com.cn/english.html
China Post: http://intmail.183.com.cn/icc-itemstatusen.jsp
HongKong Post: http://app3.hongkongpost.com/CGI/mt/enquiry.jsp
10: How will you deal with the defective items?
If you receive the defective items, please take photos within 3 days after you receiving the parcel. We will offer you the best solution according to the photos.
En allymas.es, podrá disfrutar de una experiencia óptima de compra.
Nuestros productos son réplicas de la mejor calidad, disponemos de cientos de marcas y una enorme variedad de productos disponibles.
Nuestra web dispone carro de compra, lo que te ayudará a hacer pedidos de forma rápida y eficaz.
Los precios de nuestros productos incluyen gastos de envío.
No exigimos realizar un pedido mínimo, aunque ofrecemos descuentos especiales a nuestros compradores mayoristas.
Pasos para hacer un pedido:
1.- Busca los productos que más te gustan.
2.- Selecciona la talla: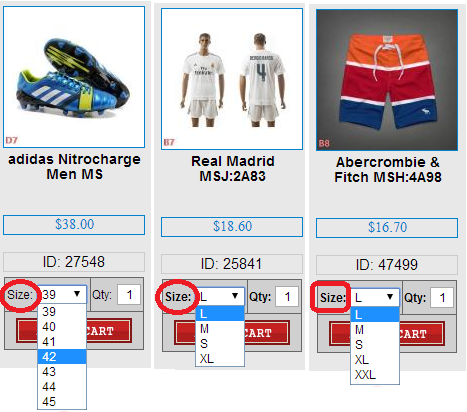 3.- Escribe la cantidad: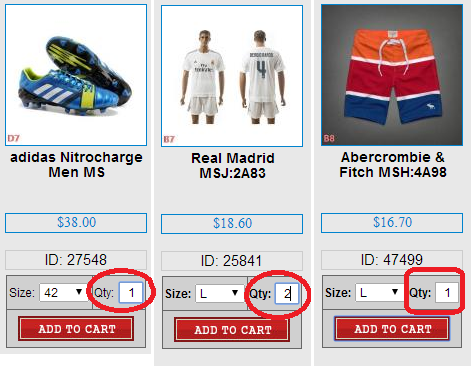 4.- Añade al carro el producto: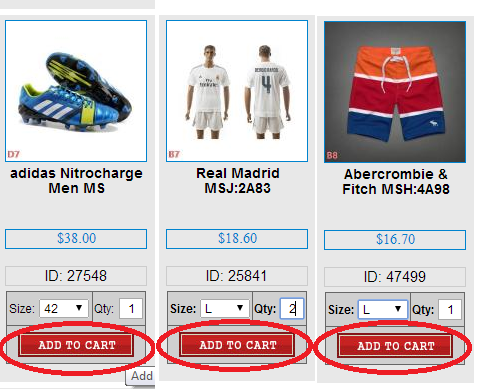 Una vez que hayas seleccionados los productos, envía tú pedido:
Paso 1, entra en tú cuenta o registrate en nuestra web: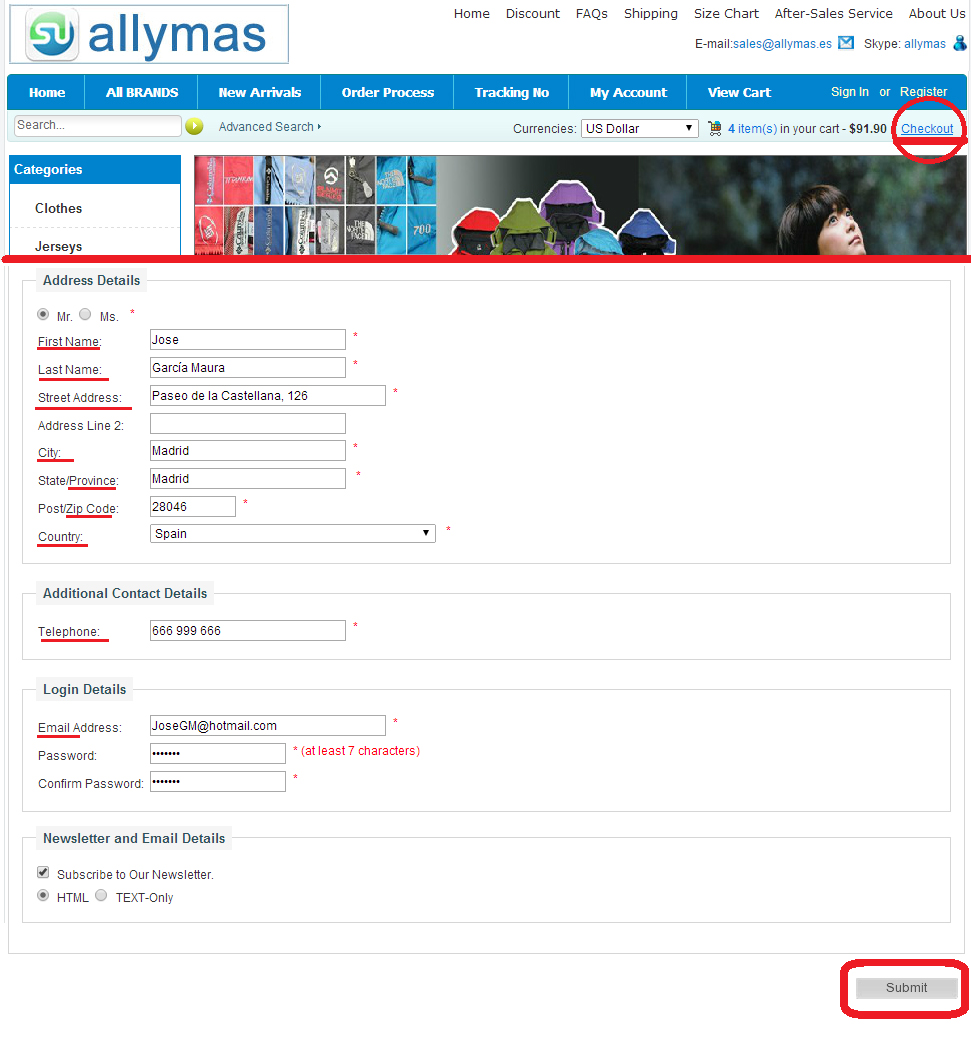 Paso 2, selecciona un método de envío, si haces un pedido mediano o grande, el envío por EMS, también será gratuito: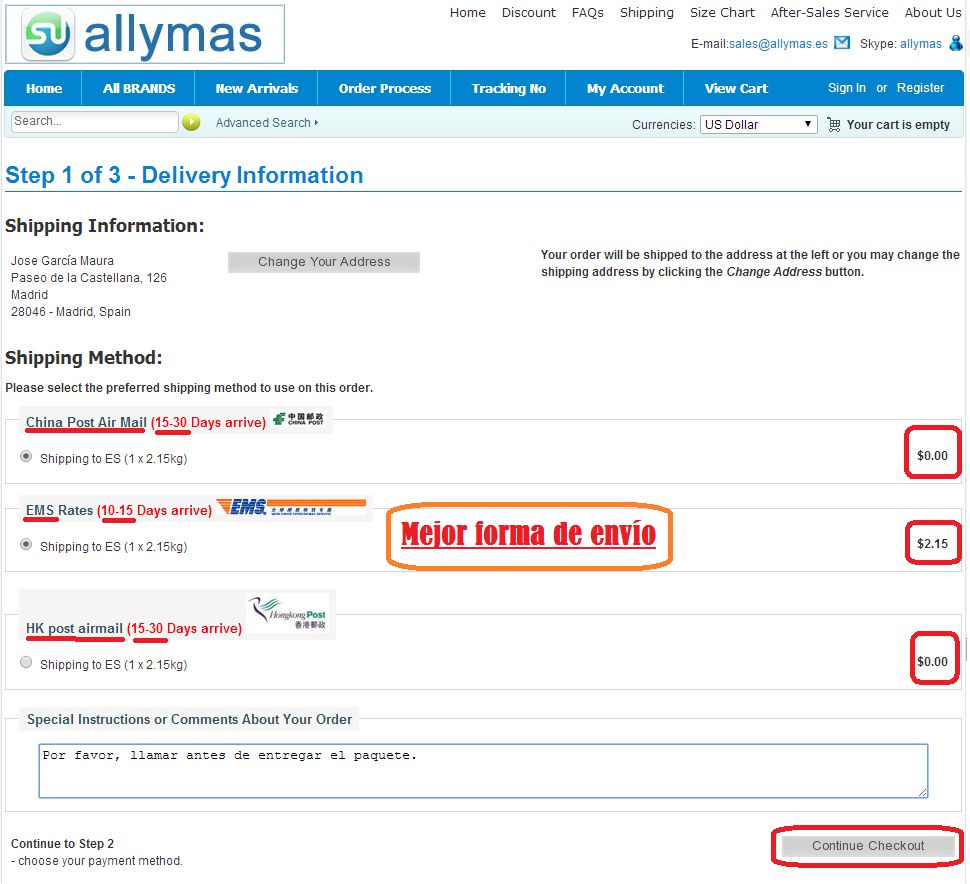 Paso 3, selecciona una forma de pago, por seguridad, algunas formas de pago están reservadas a los usuarios con experiencia previa: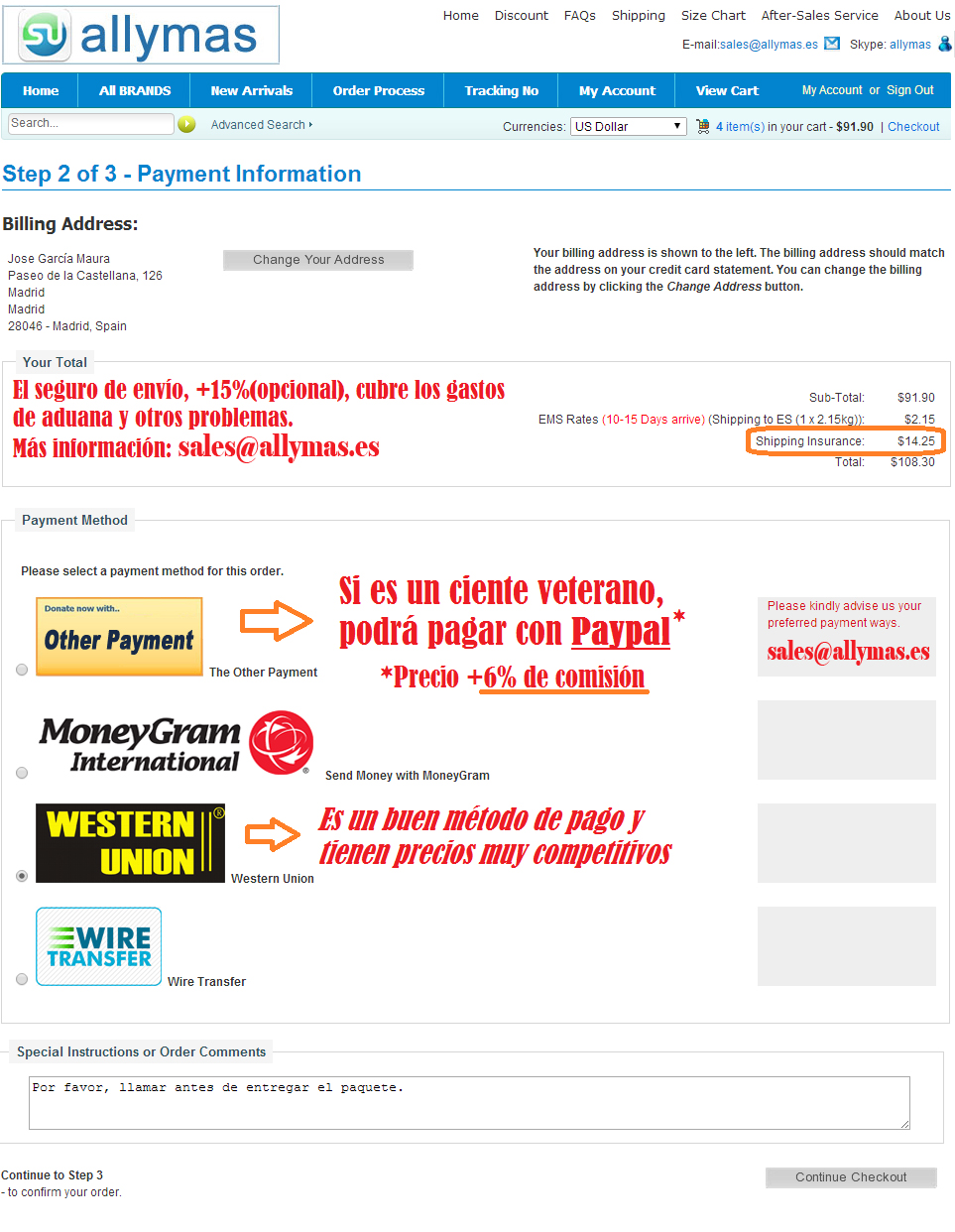 Paso 4, verifica los datos y confirma el pedido: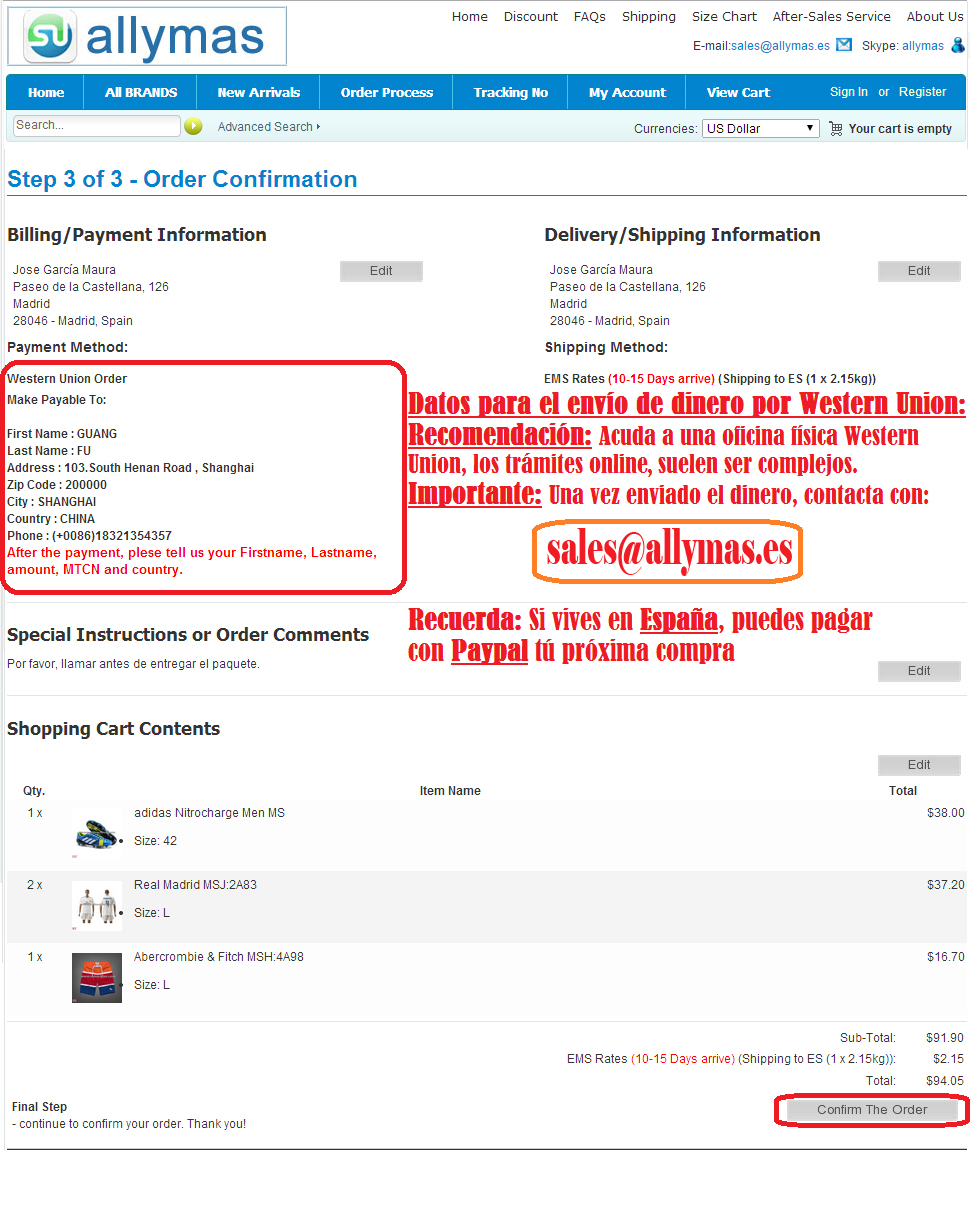 Paso 5, tú pedido ha sido procesado y nos encontramos a la espera del pago, si has hecho todo bien, tendría que aparecer algo así: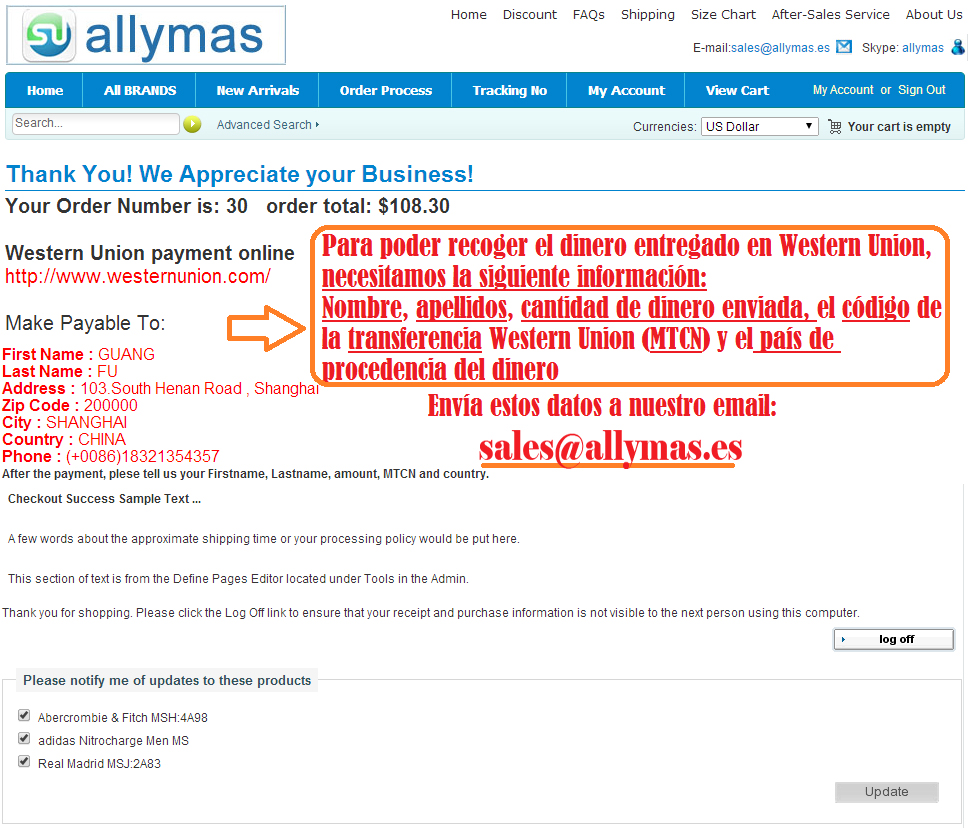 Paso 6, realizar el Pago.
Paso 7, Una vez realizado el pago, escribir a sales@oomg.es informando sobre la realización del pago.
Paso 8, Nos pondremos en contacto con usted para confirmar la recepción del dinero y empezaremos a preparar su pedido.
Paso 9, Preparamos el pedido y lo enviamos a la dirección indicada, este proceso puede tardar varios días dependiendo del tamaño del pedido y los productos solicitados (nuestros proveedores tardarán más o menos tiempo en enviarnos sus productos).
Paso 10, Le enviamos los números de seguimiento de los paquetes.
Paso 11, Ha recibido el pedido (esto puede tardar más o menos dependiendo de la compañía de envío seleccionada), esperamos que le gusten nuestros productos y volvamos a hacer negocios pronto.
Si necesita algo, tiene algún problema o consulta, recuerda que puede contactar con nosotros en cualquier momento: